Homes in Franktown, Colorado
Franktown is the perfect community for people seeking a safe, quiet setting with modern amenities. The town is located off the beaten path but convenient to all of the amenities of Douglas County.

You can still feel Franktown's agricultural roots. Nearby Castlewood Canyon State Park is a gorgeous wilderness area featuring a dramatic canyon, and lots of wildlife.
List of Zipcodes
| Zip Code | Zip Code Name | Zip Code Population |
| --- | --- | --- |
| 80116 | Franktown | 4,270 |
Demographics
| | Zip Code | City | County | State | National |
| --- | --- | --- | --- | --- | --- |
| Population | 4,270 | 383 | 351,154 | 5,759,582 | 331,426,769 |
| Population Density | 49.4 | 130.2 | 1,167.0 | 55.5 | 93.8 |
| Percent Male | 49.0% | 51.0% | 50.0% | 49.0% | 49.0% |
| Percent Female | 51.0% | 49.0% | 50.0% | 51.0% | 51.0% |
| Median Age | 50.8 | 43.7 | 41.0 | 40.2 | 39.0 |
| People per Household | 2.6 | 2.6 | 2.9 | 2.8 | 2.6 |
| Median Household Income | $106,904 | $100,391 | $114,156 | $115,942 | $61,963 |
| Average Income per Capital | $52,013 | $48,317 | $61,155 | $50,725 | $33,235 |
Market Data
| | Zip Code | City | County | State | National |
| --- | --- | --- | --- | --- | --- |
| Median Sale Price | $725,000 | $725,000 | $550,500 | $425,100 | $277,796 |
| Median Age of Home | 37.0 | 30.0 | 33.0 | 39.0 | 49.0 |
| Homes Owned | 86.0% | 86.0% | 77.0% | 67.0% | 58.0% |
| Homes Rented | 10.0% | 9.0% | 18.0% | 23.0% | 31.0% |
| Homes Vacant | 5.0% | 4.0% | 4.0% | 4.0% | 11.0% |
Market Trend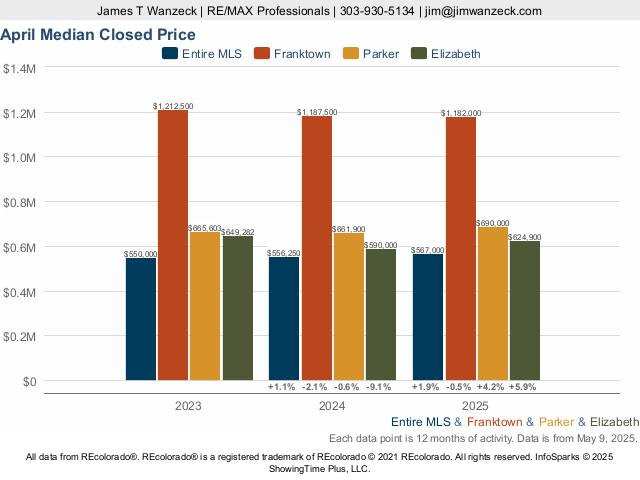 58 properties on market
Contact Us
RE/MAX Professionals
6020 Greenwood Plaza Blvd #100
Greenwood Village, CO 80111, USA
Valuation Index
Quality of Life - 90%
Climate & Environment - 75%
Schools & Education - 73%
Safety & Crime - 17%
Quality of Life
| | Zip Code | City | County | State | National |
| --- | --- | --- | --- | --- | --- |
| Cost of Living Index | 110.0 | 108.0 | 116.0 | 110.0 | 100.0 |
| Health Cost Index | 121.0 | 118.0 | 124.0 | 119.0 | 100.0 |
| Commute Time | 25.0 | 38.0 | 27.0 | 25.0 | 24.8 |
| Commuting by Bus | 0% | 0.0% | 2.0% | 1.2% | 2.1% |
| Commuting by Carpool | 7.0% | 6.0% | 8.0% | 11.0% | 13.5% |
| Commuting by Auto | 76.0% | 78.0% | 83.0% | 80.0% | 79.1% |
| Working at Home | 16.0% | 14.0% | 7.0% | 5.2% | 4.7% |
Walk Score®
Climate & Environment
| | Zip Code | City | County | State | National |
| --- | --- | --- | --- | --- | --- |
| January Average Low Temperature | 13.6 °F | 17.8 °F | 15.9 °F | 13.7 °F | 22.6 °F |
| July Average High Temperature | 84.0 °F | 85.4 °F | 89.5 °F | 77.5 °F | 86.1 °F |
| Annual Precipitation (inch) | 17 in. | 19 in. | 18 in. | 19 in. | 38 in. |
Schools & Education
Safety & Crime
Zip Code
City
County
State
National

Violent Crimes

Calculated annually per 100,000 residents

Assault
162.9
151.2
69.5
246.3
250.2
Murder
2.2
2.2
2.2
3.8
5.0
Rape
70.4
70.5
33.6
67.2
42.6
Robbery
123.3
116.7
19.2
63.6
81.6

Property Crimes

Calculated annually per 100,000 residents

Burglary
223.7
227.5
230.1
348.4
340.5
Theft
360.4
343.1
1,794.6
1,858.3
1,549.5
Motor Vehicle Theft
603.0
599.4
88.7
384.0
219.9
Take a photo of this QR code
to keep this website details